PM attends special screening!!!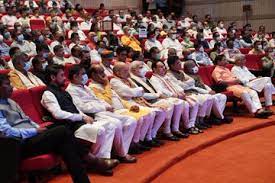 These days tremendous discussions are going on about many tv shows. At the same time, in the midst of all this, recently Doordarshan's new serial 'Swaraj - The overall story of India's freedom struggle' (TV Show Swaraj) has come into the limelight. prime minister Narendra Modi is going to make this show special, who is going to attend its special screening. It is being told that this tv show is going to be of 75 episodes, which depicts the glorious history of India's freedom struggle. The life story of many heroes will also be narrated in this show.
On august 17, prime minister Narendra Modi will watch the show 'Swaraj' in the Film Division located on Mahadev Road, Delhi. The meeting of the minister of Council has been held in the parliament Library at 5 pm. It is being told that only after this meeting, this show has been organized to watch. The show depicts the saga of the glorious history of india since the 15th century.
Union minister Anurag Thakur has already said while doing the promo of 'Swaraj' that the show gives glimpses of Swaraj's imagination at the time of freedom struggle. , Union minister Jitendra Singh tweeted and wrote that 'Swaraj - The Holistic Saga of India's Freedom Struggle' is a historical tv serial that pays tribute to our freedom fighters. Let us inform that viewers can watch this show in 9 languages- Tamil, Telugu, Kannada, Malayalam, Marathi, Gujarati, Oriya, bengali and Assamese from august 20 on DD channels every sunday at 9 pm.
మరింత సమాచారం తెలుసుకోండి: