Trump will have his facebook and instagram accounts back...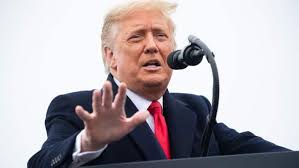 Former US President donald trump is preparing to contest elections once again. donald trump was marginalized after the violence on Capitol Hill after the results of the last presidential election. Slowly, donald trump is becoming active again. Now Facebook's parent company Meta has announced that Donald Trump's facebook and instagram accounts will be restarted. Earlier, the twitter account of donald trump has been activated. donald trump was surrounded all-round after the violence on Capitol Hill and his social media handles were closed.
According to the New York Times report, Meta has decided to restart Donald Trump's facebook and instagram accounts. Trump's social media accounts have been closed for more than two years. When his facebook account was closed, he was one of the most followed accounts. In the last few days, the way the decisions are going in favor of donald trump, his claim is getting stronger.
There was an uproar on Capitol Hill in 2021
Actually, after the defeat of donald trump in the presidential election in America, his supporters became furious. On january 7, 2021, hundreds of trump supporters stormed Capitol Hill. trump was posting continuously during this time. Due to this, facebook, twitter and YouTube closed their accounts. These tech companies had argued that their posts could have further incited violence.
Later donald trump brought his own social media platform Truth Social. However, when Elon Musk bought twitter, he changed the policy and got Donald Trump's twitter account started. The investigation is still going on against donald trump and his associates in the case of Capitol Hill violence.
మరింత సమాచారం తెలుసుకోండి: