PM Modi crushes rahul Gandhi in Parliament-Part2...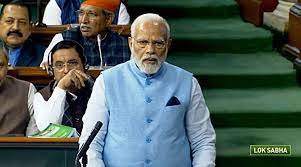 Rahul Gandhi's accusations were met with PM Modi's 12-point response: "Life is spent every second." Let us know in 12 points what PM Modi said in the House.
1. Showed hatred by insulting the President
PM Modi said, I thank the President for his address. I also congratulate him as well. When the President's speech was taking place, some people disappeared even from that. Due to this, his hatred and his thinking towards the tribal community has come in front of everyone. Such things have been said on TV, which has brought out the hatred inside them in front of everyone. A big leader has already insulted the President.
2. Dushyant Kumar's poem on rahul Gandhi tightened
PM Modi said, in the discussion on the address, many members gave their own figures and arguments. Keep your words according to your interest. From this it is understood that how much capacity, ability, understanding one has and what is his intention. He taunted without taking the name of rahul Gandhi. 
3. Earlier it was said that the country is getting weak, now it is being said that Modi is threatening other countries
PM Modi said without naming rahul Gandhi, when we came to power in the year 2014, since then some people used to say that the country is getting weak. Now they are saying that we are threatening other countries. They are getting the decisions changed by threatening them. They think that abusing Modi will only lead to a way out among the public. When PM Modi was saying this, the bjp MPs present in the house echoed with slogans of 'Modi-Modi'.
మరింత సమాచారం తెలుసుకోండి: