Karnataka Elections: Why Yeddyurappa matters to BJP?P3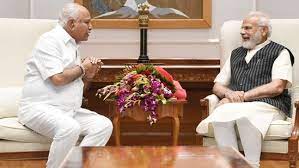 The entire game is being fought for the karnataka Lingayat votes. Let's examine it in greater depth.
Lingayats are 17 per cent in Karnataka
Yeddyurappa, who has been charged with corruption and nepotism, is still without a doubt the head of the Lingayat group at the age of 80. This group in karnataka elects 40 to 50 MLAs to the legislature. Notably, the Lingayat group, which makes up 17% of the state's population, is the BJP's strongest supporter in Karnataka. This group is present throughout Karnataka. The North karnataka region is home to a sizable populace. Lingayats are dispersed throughout the state and are very important in many South karnataka regions.
In karnataka, Yeddyurappa had started the party from zero. He was a crucial player in the success of the bjp in the state, along with other notable leaders. After Operation lotus put the bjp in charge, he rose to the post of leader of the Opposition and was elected Chief Minister. The Lingayat community throughout the province supported him wholeheartedly. By keeping his pledges to other community leaders as well, Yediyurappa was able to gain the support of all the communities in the state. The bjp is now concerned that its Lingayat support is dwindling. The Lingayat vote bank, which has supported the bjp for decades, will undoubtedly shrink as a result of the BJP's inability to project a mass leader other than Yediyurappa who can win over the masses in karnataka, according to sources.
మరింత సమాచారం తెలుసుకోండి: