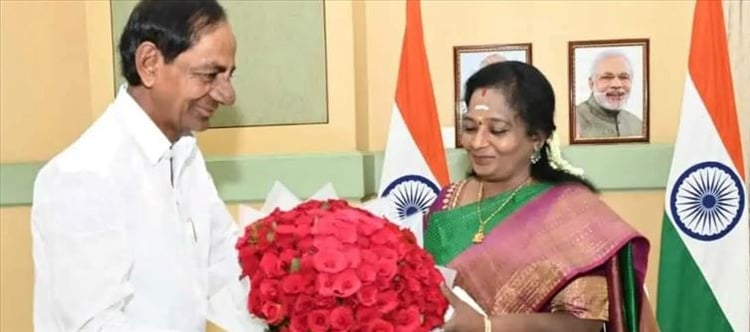 On Monday, september 25, telangana governor tamilisai soundararajan rejected the state's plan to appoint BRS leaders Dasoju sravan kumar and K Satyanarayana to the Legislative Council under the governor's quota, setting up a new dispute.

After rejecting the proposal, she wrote two separate letters to chief minister K Chandrashekhar Rao, urging him to avoid appointing people who are politically aligned because doing so would undermine the Constitution of India's goals and intent. Instead, she urged them to only consider people who are truly eminent in their fields. After a recent dispute over significant Bills, including the TSRTC merger Bill in August, between the state administration and the governor, a new development has occurred.
BRS Responds
Dasoju sravan stated in response to the Governor's Article 171(5) citation that social service and politics have separate responsibilities and objectives, "but they are not mutually exclusive."

"Social workers may participate in advocacy and lobbying to alter policy, and politicians may try to pass legislation to address social concerns. politics and social work serve separate functions and have different goals, but they are not incompatible. Politicians may strive to solve social concerns through legislation, and social workers may engage in advocacy and lobbying to influence policy changes, the speaker noted.
BJP Welcomes the Decision
Telangana bjp president and union minister g kishan reddy applauded the governor's decision and declared that "there is no need to appoint people serving KCR's family as MLCs in the Governor's quota."

Not the First time
Governor Soundararajan had previously rejected the BRS government's suggestions for the Legislative Council's governor quota. P kaushik Reddy, the leader of the BRS, had his nomination rejected by her in 2021 because, according to the indian Constitution, he did not meet the criteria for the Governor's quota. She had also mentioned that he was facing active legal proceedings.

What is Article 171(5)?
The indian Constitution's Article 171 talks about the composition of the state Legislative Councils.  It includes provisions and protocols that have to be taken into consideration. According to clause (5), the members to be nominated by the governor shall consist of persons having special knowledge or practical experience in respect of such matters as the following, namely: Literature, science, art, co-operative movement, and social service.Members who fulfill all the required criteria as mentioned above will be eligible to be nominated by the Governor. 
మరింత సమాచారం తెలుసుకోండి: