Kapil Dev Birthday: India's greatest all-rounder..!?

Former captain kapil dev, who played an important role in taking the indian cricket team to the heights of success, is celebrating his 64th birthday today. On Kapil's birthday, let's take a look at how his international career has been and some of his special recordings. kapil dev made his international debut in october 1978. But he could not perform as expected in the first match. But Kapil proved that he is a full-time all-rounder by scoring fifty off just 33 balls in the Karachi Test against Pakistan.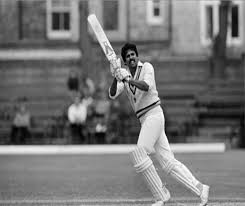 Captain kapil dev in 1982:

After Kapil Dev's consistent performance with the ball and bat, he was appointed full-time captain of the west indies tour in 1982. In one match of this series, Kapil played innings and scored 72 runs to win the team. This win gave the indian team the confidence to beat the west indies in the World Cup.

175 runs in World Cup:

Anyone who was part of the 1983 world cup team will tell you that kapil dev was the only one who believed right from the start that 'we can win the World Cup'. The overconfidence was due to India's thrashing of the west indies in the pre-World Cup series. india defeated west indies in the 1983 world cup League round. However, the indian reporters who went to england to cover the world cup matches underestimated the indian team, saying that the West indian team would defeat India. However, india defeated west indies by 34 runs. After this, the batsmen were playing badly against the indian team and Zimbabwe. Then the next wicket fell within minutes of kapil dev taking the field. In the end, kapil dev fought alongside the bowlers. A batsman, he was not that way that day. He was relaxed. Instead of batting, he scored one or two runs and bowled carefully not to lose a wicket. He also became the first indian to score a century in the history of ODI cricket. That streak lasted 14 years. kapil dev was unbeaten on 175 as india struggled to score 266/8 to win the match.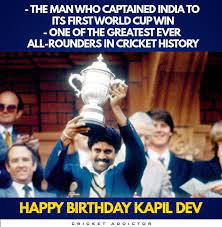 Kapil Dev's Role in the 1983 World Cup:

In the 1983 world cup, Kapil performed wonders with both the ball and the bat. Along with this, his fielding is also unmatched. Kapil scored 303 runs at an average of 60.6 in 8 matches and took 12 wickets. He also took seven catches.

400 wickets and 5000 runs:

Kapil Dev is the only cricketer in the world to score more than 5000 runs and 400 wickets in Test cricket. He has taken 434 Test wickets. kapil dev was the first captain to win the world cup for India. In 2002, Gabiv Dev was selected as the indian Cricketer of the Century by Wiston.

మరింత సమాచారం తెలుసుకోండి: