Indian cricketers brutally trolled for rejecting?...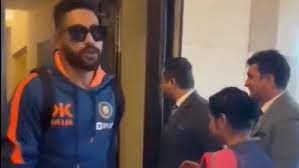 Indian cricket team's fast bowlers Mohammad Siraj and Umran Malik are in discussion this time not for their bowling but for other reasons. In the video that went viral on social media, it can be seen that Tilak is being applied to all the players to welcome Team India. Tilak was not applied by Siraj and Umran Malik.  Now both of them are being trolled for this. Questions are being raised that even after reaching this level in the game, how fanatic are these players about their religion.
It can be seen in the viral video that the players including the staff of Team india are reaching the hotel. When Mohammad Siraj comes in this, he refuses to get Tilak applied. After that, coach rahul dravid came and got Tilak applied. However, vikram Rathore who came after rahul dravid also did not apply Tilak. Some other people also did not get Tilak applied. Umran Malik, who came later, also stopped the woman applying Tilak with a hand gesture.
Video went viral on social media
Now the debate has started on social media regarding this. This video is becoming increasingly viral. One side says that not getting Tilak shows how fanatic these players are about their religion. At the same time, some people also say that despite being in the indian team, these players have insulted indian culture and traditions.
Telling the truth, people from the other side are writing that in this video, vikram and hari Prasad Mohan also did not get Tilak applied, but the question is only about Siraj and Umran. Videos of deadly bowling of Mohammad Siraj and Umran Malik are also being shared and it is being said that their performance is enough to prove their patriotism.
మరింత సమాచారం తెలుసుకోండి: