For the person who ordered the iphone, the incident where the soap came in the parcel has come as a shock. people should be more cautious nowadays, as there are so many misleading happenings online.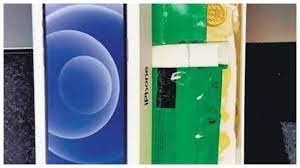 In the state of Kerala, a person who ordered an iphone on an online website has been shocked by the incident where soap came with a 5 rupee coin in a parcel.
Noorul Amin hails from Aluva in the ernakulam district of Kerala. He is an indian living abroad. On the 12th, he ordered an iphone worth Rs. 70,900 through a popular online trading website. Delivered to Noorul Amin on the 15th.
Before unboxing the iphone, Noorul Amin took a video of it. He opened the parcel and was shocked. In the phone box, the answer to the i-phone was soap and a 5 rupee coin. Noorul Amin was dissatisfied and lodged a complaint at the police station.
Cybercrime police have registered a case and are investigating. Noorul Amin's iphone was allegedly used by someone in jharkhand since September. Eventually, the money was re-funded to Noorul Amin. customers complain that this often happens when they order and buy goods online.
మరింత సమాచారం తెలుసుకోండి: