18 years-Thief hid out in the home of Rajinikanth's daughter...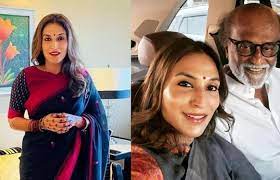 Shocking news had recently come to light about megastar Rajinikanth's daughter and filmmaker aishwarya Rajinikanth. It was told that Aishwarya's gold and diamond ornaments have been stolen. The daughter of the veteran actor had also lodged a complaint with the police last month regarding the matter. At the same time, after an investigation, the police arrested two people while taking action.
According to media reports, the names of the filmmaker's house help and driver are included in these arrested people. It is alleged that he had stolen gold and diamond jewellery from the house. According to the information received, house help Ishwari had carried out this incident at the behest of Aishwarya's driver Venkatesan. 
At the same time, gold jewellery weighing around 100 tolas, diamond jewellery weighing 30 grams and silver jewellery weighing 4 kg were included in the stolen goods. If reports are to be believed, Venkatesan and Ishwari not only stole the jewellery but also bought a new house by selling it.
At the same time, earlier in the complaint lodged with the police, the filmmaker had told that she had worn these ornaments in the year 2019 at her sister Soundarya's wedding. After marriage, she kept them in a locker at home. aishwarya had told in her statement to the police that the house help was aware of the jewellery inside the house.
Now, according to the information revealed during the investigation, Ishwari has been working at Aishwarya's place for almost 18 years. During this, she has also stolen several times by opening the locker of the filmmaker's house. She used the key she knew was there to unlock the locker. On the work front, aishwarya Rajinikanth is busy shooting for her upcoming film 'Lal Salaam' these days. For this, she is visiting different cities in tamil Nadu.
మరింత సమాచారం తెలుసుకోండి: