Instead of Urfi Javed, he apologized for wearing strange clothes, said- 'I will change myself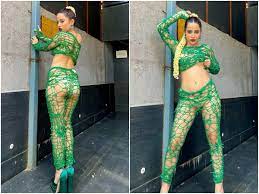 uorfi javed: Urfi Javed, who came into limelight after participating in bigg boss OTT, often attracts people's attention with her looks. Urfi is often in the limelight for her dressing style and bold avatar, but this time Urfi Javed's attitude has changed a bit. Recently, he has surprised everyone by writing an apology.
uorfi javed: From tv shows to OTT bigg boss, actress Urfi Javed (Urfi Javed), who has made her mark, remains in the headlines for her unusual fashion sense. The actress surprises people every day by wearing new designed clothes. Not only this, there are a lot of trolls on the social media regarding their unusual fashion and style of clothes. Although celebs like his style very much, but now Urfi has posted an apology and promised to change it with the people. Everyone is surprised to read this.
Urfi tweeted and wrote, I apologize for hurting sentiments by what I wear. From now on you will see the changed Urfi. With a change of clothes. Forgiveness. Users are constantly reacting to Urfi's tweet. people do not understand what has happened to them.
Seeing this apology of Urfi Javed, the fans are confused. No one is able to believe that Urfi is saying this. Well, only Urfi knows what is the truth behind this.
Recently, Urfi's fashion was praised by Kareena. Recently, during a conversation with the media, Kareena said that I do not have the courage of Urfi Javed. That girl is really brave. She carries the looks according to her own. people love to watch Urfi Javed. You get freedom to speak and express yourself in fashion. I think Urfi Javed's confidence is amazing.
Complimenting Urfi Javed, kareena kapoor said, she looks very cool in each and every look of hers. Urfi Javed wears whatever dress she likes. This is what fashion is all about. Whatever you wear, wear it with full confidence. I admire Urfi Javed's confidence.
మరింత సమాచారం తెలుసుకోండి: