Rupali Ganguly talked about love story with husband Ashwin, blushingly said - 'did not even propose me'
Recently, tv actress rupali Ganguly opened up about her love story with husband Ashwin K Verma and shared some interesting tidbits. Let us tell you.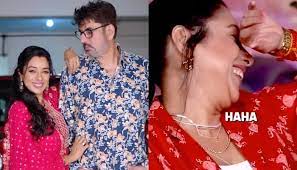 Television actress rupali Ganguly is winning millions of hearts with her lead character 'Anupama' in the popular tv show 'Anupama'. However, his personal life is also often in the news. The way rupali has had a normal upbringing, she makes sure to give the same upbringing to her son Rudransh. Apart from this, fans are also eager to know about Rupali's love story with her  husband Ashwin K Verma .
Rupali Ganguly talks about her love story with husband Ashwin K Verma
Sometime back, rupali Ganguly appeared on YouTuber Ranveer Allahbadia's podcast. The YouTuber shared a video of the podcast on his insta handle. In the clip, Ranveer asks rupali about her love story, to which she blushes like a schoolboy. rupali reveals that she met Ashwin during her struggling days. He got a call for an advertisement and he was the client.

When Ashwin saw her as an old woman on the sets, he immediately told rupali that he would not mind growing old with a girl like her. rupali told that the first thought that came to her mind after hearing this was, "Yeh toh line maar raha hai".

Rupali further revealed that Ashwin did not even propose to her and it was he who asked her to marry him. rupali also said that she cannot imagine marrying anyone other than her husband and wants to spend the rest of her life with Ashwin.

When rupali talked about her secret wedding
Earlier, in an interview with 'Times of India', rupali talked about her secret marriage with Ashwin. He called it a 'super-fast wedding'. rupali had shared that she had suddenly decided to get married. While they wanted to have a registered marriage and their father wanted to perform kanyadan. In such a situation, at the last moment, he had called a pundit to perform this ritual.

Rupali had further told that Pandit ji was late and had reached late in the evening. She shared another hilarious anecdote about how her husband Ashwin had parked the car in a no-entry lane, due to which the police fined him. rupali had told that Ashwin attended her wedding in a shirt and a pant.


In Rupali's words, "I had asked a designer friend of mine to get me a blue blouse with my red saree and we kept waiting for the pandit, who did not turn up till late in the evening. Ashwin had parked his car in a 'no entry' lane and was fined by the police. It was funny how Ashwin finally came to my house and started reciting mantras till the pandit came from the ground floor to my flat. Altogether 99 people attended my wedding. Ashwin had come wearing shirt and jeans and then Kanyadaan took place. Our marriage was solemnized within minutes."

మరింత సమాచారం తెలుసుకోండి: