BBC Documentary Row: Controversial subject...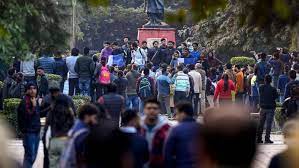 A BBC documentary on the gujarat riots is being screened in universities by groups opposed to the government. Additionally, there has been opposition to this.
Due to the documentary made by BBC on the gujarat Riots of 2002 (2002 gujarat Riots), the political uproar is going on in india at this time. In this documentary titled India: The Modi Question, the role of prime minister Narendra Modi, who was the chief minister of gujarat at the time of these riots, has been questioned in the gujarat riots. Organizations of anti-Modi ideology are trying to show this documentary to the people at various places. congress student organizations and left-wing student organizations are constantly trying to show this documentary, especially in various universities. Most of the universities have banned the showing of this documentary because of the controversy related to the prime minister of the country. Despite this, it is being shown to students in different ways, due to which violence has also been seen in universities and students have also been arrested in many places.
If you are thinking that this is the first time, that a documentary made on a controversial subject has become a victim of such an anti-government stand, then you are wrong. 
మరింత సమాచారం తెలుసుకోండి: