Rahul Gandhi: "Kashmir gave me love and hugs"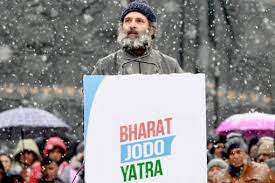 Congress leader rahul Gandhi's countrywide march, Bharat Jodo yatra ended in Kashmir. In more than 140 days, veteran congress leaders including rahul gandhi travelled to 12 states and two union territories. This ambitious campaign of congress ended on monday in Jammu and Kashmir. The opposition had taunted the Bharat Jodo yatra that it was a yatra that started to improve the image of rahul Gandhi. Starting from september 2022, this journey was very special for Congress. 
Congress has tried to get its lost mass base in a walk of more than 4,000 distance. A section of the opposition is saying that rahul gandhi and priyanka gandhi have spent quality time in Kashmir. It has been less a political journey, and more a tour. Beyond the opposition's allegations and counter-allegations, rahul gandhi has tried to rectify the political equations in the kashmir Valley. rahul gandhi has once again tried to unite the allies of UPA.
In the midst of intense snowfall, the congress leader declared in his closing statement of the Bharat Jodo yatra that if we stand with love instead of hate, we would succeed. On monday, several hundred people gathered in Srinagar, the capital of indian kashmir, as snow fell to commemorate the conclusion of congress party leader rahul Gandhi's foot march, which he started 135 days ago at the southernmost point of the nation.
మరింత సమాచారం తెలుసుకోండి: