Turkey's Second Powerful Earthquake caused havoc...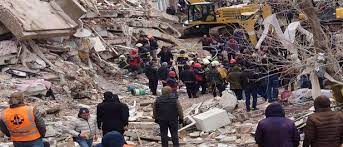 The havoc of nature is not ending in Turkey. After nine hours, the land of turkey was again shaken by the tremors of the earthquake. A 7.6 magnitude earthquake occurred again on monday evening in Elbistan district of Kahramanmaras province of Turkey. Earlier on monday, an earthquake of 7.8 magnitude occurred in turkey and Syria. In which 1472 people have died so far. While more than 3,320 people have been injured.
Turkey's Vice President Fuat Oktay told that 1700 buildings collapsed in 10 affected provinces and at least 3,320 people were injured. Strong tremors of a 7.8 magnitude earthquake were felt in southeastern turkey and syria in the early hours of Monday. As rescuers continue to scour the impacted areas for anyone trapped under the debris, the death toll is anticipated to grow. 912 deaths have been confirmed in turkey and 560 in Syria. Earlier in turkey, such a severe earthquake occurred in Erzincan province in 1939. In which 33,000 people died.
People seen calling for help
The scene of the earthquake was so terrible that people trapped inside partially collapsed buildings and people on the streets were seen pleading for help. Turkish President Recep Tayyip Erdoğan tweeted that search and rescue teams have been immediately dispatched to the quake-hit areas. We hope to come out of this disaster together with minimal loss of life and property, he said. 
మరింత సమాచారం తెలుసుకోండి: