Gold Necklace to a fashion show..? Actress Taapsee trolled..?

Netizens are criticizing actress Taapsee for wearing a gold necklace with Lakshmi's image in the fashion show. Taapsee is a leading actress in Bollywood. She made her debut in tamil with the movie Aadukalam directed by Vetiramaran. After that Taapsee starred in films with different storylines like aishwarya Rajinikanth's Vai raja Vai and Ashwin Saravanan's Game Over, but it was bollywood that made her famous. Taapsee is also included in the list of highest-paid actresses there.

Taapsee is showing more and more interest to act in films centered around the heroine. Currently, the actress Taapsee has half a dozen films including a tamil film called Jana Gana Mana and a hindi film called Dungi. Taapsee is acting opposite actor jayam ravi in Jana Gana Mana. ahmed is directing the film. Similarly, Taapsee is acting opposite shahrukh khan in Dungi.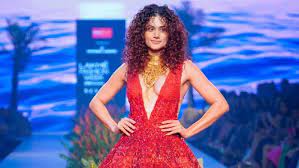 Taapsee, who is crawling as a busy actress, recently participated in a fashion show held in mumbai and walked the ramp. In it, Taapsee was shocked by coming in a very glamorous outfit. Taapsee's ramp walk video and photos have gone viral on social media and are in controversy. The necklace Taapsee wore for the fashion show is currently in controversy. The necklace had the image of Lakshmi. netizens are lashing out at Taapsee, saying that wearing a sexy dress and wearing a necklace with God's image on the ramp is an act of insulting Hindu Gods and that she can act irresponsibly as an actress.
మరింత సమాచారం తెలుసుకోండి: