Another face of the superstar..!? Friendship broken..?

Actor Radharavi, who has a tendency to say what is on his mind, has for the first time opened up about the breakup between him and actor Rajinikanth. Superstar Rajinikanth has been a top actor in tamil cinema. Radharavi is famous for playing character actors and villains in many of his films. All the films in which they acted together like Guru Sishyan, Rajathi Raja, Siva, Annamalai, Muthu, Padayappa, etc. became super hit films. Between them there was a good friendship.
In this case, actor Radharavi spoke for the first time about the story of their broken friendship in an interview. The information he has said is going viral on social media. The friendship between these two has come to an end in the Arunachalam film issue. Superstar Rajinikanth film directed by sundar c 1997's blockbuster movie Arunachalam. Rajinikanth, Soundarya, Rambha, Manorama, Vadikukarasi, Jaishankar, Vichu Viswanath, Raghuvaran, and others acted in this film. Adapted from the english novel Reversor's Million, the film featured Rajinikanth in the dual roles of Arunachalam and Vedachalam.
Rajinikanth Arunachalam, the child born to the richest Rajinikanth, Vedachalam, comes to the Ravichandran family due to circumstances. As he is childless, Ravichandran thinks that the zodiac sign that came to Rajinikanth's house will be the birth of children one after the other and brings up Rajinikanth as the eldest son. As he is childless, Ravichandran brings up Rajinikanth as the eldest son, thinking that it is the zodiac sign that comes to Rajinikanth's house, and gives him all the respect that should be given to the eldest son in the family. sundar c directed it elegantly with various twists and turns. But this film was originally intended to be directed by actor Vasu. When he narrated the story by getting actor Radharavi to play the villain, Radharavi also agreed.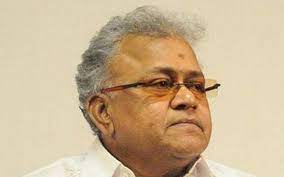 Then suddenly Rajinikanth changed the director. Rajinikanth, who has also decided on the villain actors, has invited Radharavi to his house to inform him about this.Radharavi has gone home to meet Rajinikanth before leaving for mysore for another shoot. They both spoke about the Arunachalam film and how Rajini changed the director, he said that since there are already 3 villains, it will not be good if ravi -Latest Updates, Photos, Videos are a click away, CLICK NOW'>radha ravi plays the fourth one. He thought that how can he call and tell this to an actor himself? Being an actor, he knew that difficulty. ravi -Latest Updates, Photos, Videos are a click away, CLICK NOW'>radha ravi also understood that he had no chance at that time.
మరింత సమాచారం తెలుసుకోండి: