India's wallet PLATFORM' target='_blank' title='digital-Latest Updates, Photos, Videos are a click away, CLICK NOW'>digital strike on China- Bans 232 apps...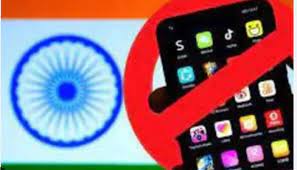 From loans to betting, Chinese mobile apps have been facing serious allegations of threatening people by stealing their data. Now the government of india has taken a big decision in this matter and has banned 232 mobile applications. This action has been taken by the Ministry of Electronics and Information technology, government of India. The government has taken this decision citing a threat to the security and integrity of India.
Actually, the indian government has outlawed 94 loan-giving applications and 138 betting apps. Regarding these apps, it has been claimed that they had ties to China. These apps have been instructed to ban emergency and urgent, according to the report. Total of 232 apps have reportedly been blocked, according to the report. The usage of these apps is prohibited by Section 69 of the IT Act.
The Ministry of Electronics and Information technology was told about this, the paper claims, by the Ministry of home Affairs. This followed the implementation of these apps. These apps were viewed as a danger to the safety of the country, and many of them threatened users with the withdrawal of loans they had already received.
Let us inform you that while the majority of mobile apps cannot be downloaded via the Play Store for smartphones, it has been stated in the research that downloading betting apps and games from external links or websites is possible. 
Let us inform you that several of these apps accept cryptocurrencies as payment. The majority of india is an illegal gaming and betting market, according to the Ministry of Information and Broadcasting (MIB).
మరింత సమాచారం తెలుసుకోండి: