Why kamal haasan Offered Rs 150 Cr For Prabhas?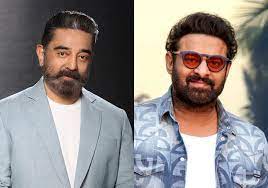 One of the most anticipated films of the year is Prabhas' Project K, which also stars deepika padukone and amitabh Bachchan. Here is an update that will delight fans as the movie is currently being shot.
According to recent rumours, kamal haasan, a celebrity, has also been contacted by Project K's producers. According to reports, negotiations between the producers and Haasan are in progress. The rumour is that the megastar has been offered the role of the movie's antagonist. Haasan hasn't yet formally agreed to star in the movie, though.
For Project K, kamal haasan was offered Rs 150 crore.!!
Additionally, according to several media sources, kamal haasan has received an offer of Rs 150 crore for Project K. Hindustan Times, however, has now claimed that this is untrue. "Discussions have begun with Kamal sir. Even now, nothing has been confirmed by him. We won't know for sure whether he has accepted the offer for another week or two, according to a source cited by the news portal.
Project K, which was directed by Nag Ashwin, is deepika Padukone's debut telugu film. The movie is reportedly being made for a budget of Rs 500 crore. producer Ashwini Dutt recently disclosed in an interview that Project K will be about the "modern-day avatar of Vishnu." 
మరింత సమాచారం తెలుసుకోండి: