Don't give terrorists a platform: Centre to tv channels..?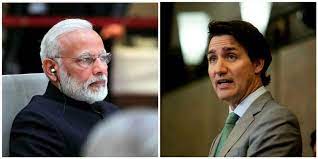 The Centre warned private television networks not to conduct any interviews with people who have ties to terrorism on Thursday. The warning comes as relations between india and canada are deteriorating as a result of Canadian prime minister Justin Trudeau's public accusations that india was involved in the killing of Sikh separatist leader Hardeep Singh Nijjar. Gurpatwant Singh Pannun, a wanted terrorist in india, made an appearance on a television channel as several forceful actions from both india and canada were made following him. Pannun and Canada's name are not mentioned in the advisory, though.
"It has come to the attention of this Ministry that a person in a foreign country, against whom there are serious cases of crime, including terrorism, and who is a member of an organisation that is illegal in india, was invited to participate in a discussion on a television channel. The said person made several comments/remarks that were harmful to the sovereignty/integrity of the country, security of india, and friendly relations between india and a foreign state, and also had potent political implications. The advisory stated that although the authorities defend freedom of the press and admire its rights under the Constitution, the content telecast by tv channels must abide by CTN Act, 1995 provisions, including sub-section (2) of Section 20.
మరింత సమాచారం తెలుసుకోండి: