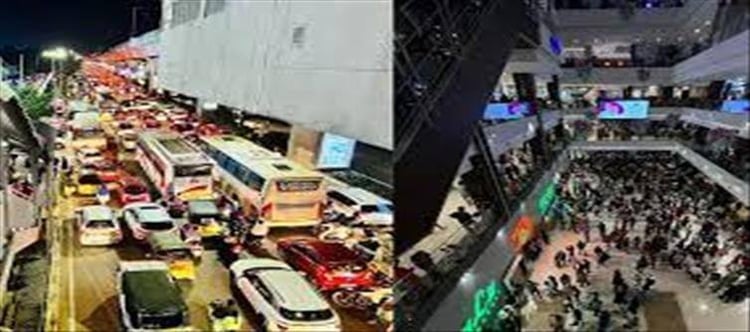 Lulu Mania in Hyderabad... Escalators stopped due to overload..!?

This is what the long weekend did! It is known that international shopping malls are expanding business empires in Hyderabad, which is said to be developing as a cosmopolitan city. As part of this, international furniture brand Ikea has already opened a store in the city. As a result, it has become not only a business complex but also a weekend tourist spot! At the same time, when the Durgam Cheruvu cable bridge was opened, the entire area was very crowded even on weekends. Meanwhile, the people of the city had a long weekend to celebrate gandhi Jayanti. With Saturday, Sunday, and monday being holidays for three consecutive days, there was no difference between young and old. That's Lulu Mall!!
 Although it seems that it started without much publicity, the city dwellers are flocking to Lulu Mall in Hyderabad. The reason for this is that Lulu has a unique position in shopping malls internationally. This mall has been thronging since the day it opened. There is no need to say when weekends and holidays come! The road is choked.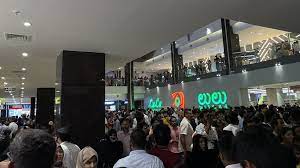 Traffic is a living hell on Kukat Pally, Balanagar, and Y Junction streets with vehicles going to the mall. The situation can be understood if it takes about an hour and a half to two hours to cover just two kilometers. And if there is moderate rain at that time... it is left to anyone's imagination! Due to this mall... NH65 is facing high traffic. As part of this, the traffic from Metro Pillar A906 to Pillar A713 is unspeakable. With this... the entire Kukat Palli is freezing. With this... keeping in mind the past experiences, during the opening of this mall... the words are being heard that the police should focus on alternatives in terms of traffic! If the situation is like this on the roads... the situation in the mall is no different! The whole mall is getting crowded with a huge crowd. people are suffering due to heavy traffic. Escalators stop in the middle due to overload. And in the matter of putting the vehicle in the parking lot and taking it out, they have experience! That's why.. there is a need to think a little while going towards that road!
మరింత సమాచారం తెలుసుకోండి: