There is no other way but to join South..? salman Khan!

Lucifer is a film directed by actor prithviraj and starring Mohanlal. The movie which was released in malayalam in 2019 received a great response from the fans. After this, many people prepared to remake this film in many languages. In that way, chiranjeevi and salman khan are acting together in the remake of lucifer in Telugu. The film is titled 'Godfather'. Nayanthara also acted in this film. The film is directed by Mohan Raja. He is the brother of actor jayam Ravi. In tamil, he has directed films like jayam, Unakkum Enakum Something Something, Velayutham, Santhosh Subramaniam, Thani Oruvan, and Vellaikaaran. There is an opinion among fans that he is the king of remakes. He has done many remake films in tamil as well. So chiranjeevi decided that Mohan Raja would be perfect for the remake of Lucifer. All the work for this film, which has been going on briskly, has been completed and the film will be released tomorrow (Oct 5).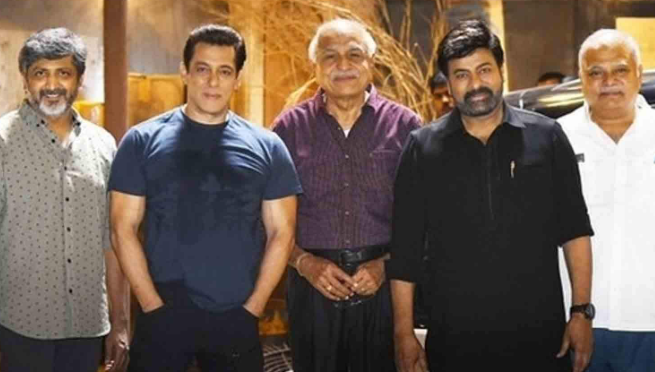 Due to this, the promotion work for the film has heated up. salman khan, who attended the promotion in Mumbai, said that South indian films are accepted here. But bollywood films are not accepted there. It needs a big star from the southern states. people want to go to Hollywood. But salman khan wants to go to the southern states. If bollywood actors and South indian actors come together, the film will reach more fans. chiranjeevi fans will watch his film and salman fans will watch Chiranjeevi's film. This will easily fetch 3,000 to 4,000 crore rupees. But, they are talking about a collection of Rs. 300-400 crores, he said.
There was a widespread perception that bollywood is the identity of indian cinema. But Baahubali series films, kgf series films, Pushpa, RRR, ponniyin selvan and other films released from South india are also hunting for collections in Bollywood. Whereas bollywood films are not shot in South India. Film enthusiasts say that South indian cinemas have become the face of indian cinema through this. Apart from that, salman Khan's speech proves it.

మరింత సమాచారం తెలుసుకోండి: