Rashmika Mandanna is at the peak of agony..!?

Rashmika Mandanna is a popular actress in South indian cinema who has acted in many hit films with many leading actors. Her fans call her National crush and Expression Queen. rashmika has a huge fan base. Recently she acted in Varisu opposite tamil cinema's popular actor Vijay, which is her first film with Vijay. Directed by Vamshi, the film collected Rs 250 crore at the box office worldwide. Although rashmika does not have a major role in Varisu, she has agreed to act in the film because Vijay is her favorite actor. rashmika herself has said in a recent interview that she acted in Varisu because she didn't have a big role but just being on screen with Vijay was enough.

There is no doubt that actress rashmika mandanna is one of the short-lived South indian cinematographers. Although fans are praising her by calling him a crush, many of her haters are trolling her terribly. Lately, many haters have been trolling Rashmika's smile, workout, speech, and facial expressions.
Rashmika, who is fed up with the nasty comments she gets, has now revealed her frustrations in a recent interview. She said that people have a problem with her body. If she works out, they say she looks like a man, if she doesn't, they say she is chubby. If she talks too much, they say she is a grinch, if she doesn't, they say she is arrogant.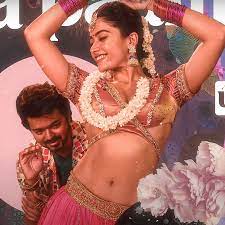 She has expressed her frustration by saying that.She accepts what people say about her if they are right, but it hurts her heart to say something wrong like this, he said. For the fans who have always seen rashmika being naughty and happy, the fact that she is now talking with such an emotional tone is making the fans dizzy.
మరింత సమాచారం తెలుసుకోండి: