Varisu actor released a special video for his beloved wife..!?

On the occasion of his 22nd wedding anniversary, Sarathkumar has compiled beautiful photos taken with his wife and released them as a video. He is affectionately known as supreme Star by his fans. Sarathkumar fell in love with actress radhika and got married in 2001. After marriage, both of them continue to act in movies.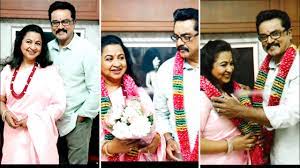 Films like ponniyin selvan and Varisu, which were recently released in the lead role of Sarathkumar, became blockbuster hits. In this, Sarathkumar played the role of Ponniyin Selvan's big lover opposite actress aishwarya Rai. Similarly, Sarathkumar played the role of actor Vijay's father in Varisu. On the other hand, radhika is busy playing mother roles in movies and serials. Last year, radhika played the role of the hero's mother in Arunvijay's Yani, Simbu's Vendu Thanindhathu Kaadu, and the blockbuster hit love Today.
Radhika - Sarathkumar couple, who continue to achieve success in cinema, recently celebrated their 22nd wedding anniversary. For this, Sarathkumar has expressed his love by compiling their photos on instagram and releasing them as a special video.
He has posted on instagram saying that 22 years have been a long blissful journey of their life full of many happy moments like love, understanding, sacrifice, and unity. He thanked radhika for making him know the real meaning of life even though he has seen all the emotions, happiness, and sadness of life so far. He prays to the almighty god that they will always live together like today and in harmony with their beautiful family.
మరింత సమాచారం తెలుసుకోండి: