Virat kohli told the first meeting with anushka was a 'life-changing' moment, the actress talked about motherhood
Recently, cricketer virat kohli described the first meeting with his wife anushka sharma as a 'life-changing' moment. At the same time, the actress has talked about managing work with mom's duty.
Virat kohli is such a great cricketer, who revolutionized the cricket world. Virat has gone through many defining moments in his life, but he considers that moment of his life as a 'life-changing moment' when he met actress anushka sharma, who later became his wife.
Virat kohli calls meeting with anushka a 'life-changing' moment
In the latest episode of 'The RCB' podcast, kohli spoke about some of the biggest events in his life. While talking about the 'life-changing' moment, kohli said that after meeting anushka, he looked at life in a completely different way. The cricketer said, "I would say the life-changing moment was when I met anushka because I saw a different side of life. It was not like my surroundings, it was a different perspective, so that's life-changing." Moment.''
He further added, "When you fall in love, you start bringing those changes in yourself because you have to move along and you have to be a little open to doing that. You need to accept a lot of things and that moment was life-changing for me." Earlier, Virat spoke about his wife Anushka's sacrifice as a mother. He said- 'She is my inspiration'
Anushka Sharma on managing work commitments with mom's duty. Whereas, in her recent interview with 'Grazia Magazine', anushka talked about her motherhood journey. Also told that last year she was fulfilling her work commitments as well as fulfilling the responsibility of being a mother. He said, "The entire last year went into the shooting of 'Chakda Express'. After finishing the shoot, I used to have only enough time to feed my daughter dinner and follow her night routine and go to bed soon after that."
Motherhood journey has brought some changes in Anushka. In this interview, the actress also told that the motherhood journey has changed her. The actress said, "It has made me a much more confident person internally. To take care of another human being and to put the child first in everything is a very real thing. I want to tell you that with my child Connecting is very important. I do everything for him and I enjoy doing it. So this bond is very special.'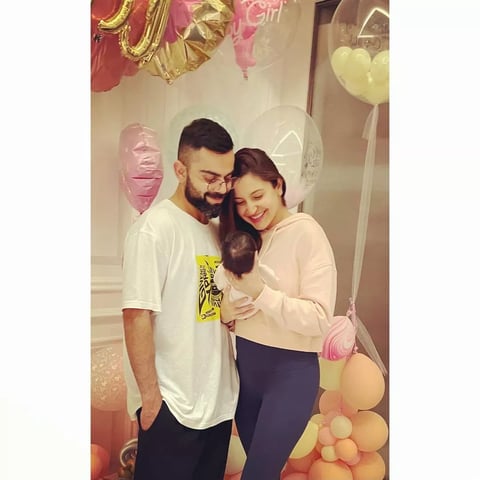 What kind of films will anushka do after motherhood?
There have been many such actresses in Bollywood, who either left the film industry after becoming a mother or did very few films. However, anushka says that after becoming a mother, she is focusing on scripts that she finds perfect for her. "I am open to doing more films, but only if they are good and meaningful. I don't want to do films just to stay in the game. I am very clear about it. I want to do films like 'Chakda'. Would like to."  Anushka Sharma shared a video full of memories of her childhood home-swimming pool and school campus, 
For information, let us tell you that B-Town's popular couple virat kohli and anushka sharma got married on december 11, 2017. In january 2021, both welcomed their daughter Vamika and now their lives revolve around their daughter. Both are very strict about the safety of their daughter.
మరింత సమాచారం తెలుసుకోండి: