Shloka Mehta visited Siddhivinayak with her husband Akash, mukesh ambani, and prithvi was also seen
Businessman akash Ambani along with his pregnant wife Shloka Mehta once again visited the Siddhivinayak temple. During this, mukesh ambani and prithvi were also present with him.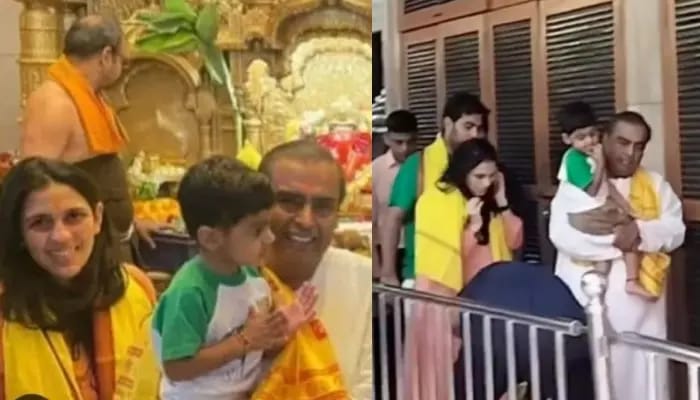 Young businessman akash Ambani and his pregnant wife Shloka Mehta were once again seen taking blessings of Ganpati Bappa at Siddhivinayak temple. During this, he was accompanied by his father mukesh ambani, and son prithvi Ambani. The Ambani family is deeply religious and likes to stay down to earth. The members of the Ambani family start their every auspicious work only after taking the blessings of God.
Mukesh Ambani took son Akash, daughter-in-law Shloka and grandson prithvi to Siddhivinayak temple
On 21 May 2023, the paparazzi saw the Ambani family coming out of the siddhivinayak temple complex after having the divine darshan of Ganpati Bappa. In the video that surfaced, mukesh ambani was moving forward with his two-year-old grandson prithvi Ambani in his lap.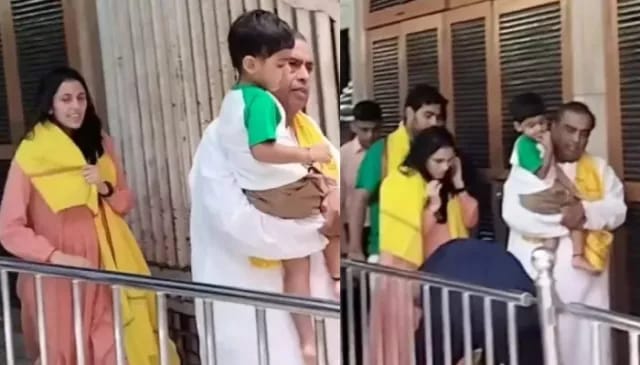 On the other hand, Shloka Mehta, who became a mother, was behind him. She was looking very beautiful in pink color flowy kurta. However, her baby bump was visible. akash also accompanied them and looked smart in casual shorts and a contrasting T-shirt.
When Shloka wore a white kurta for the divine darshan
Last week also the Ambani family had taken blessings from Ganpati Bappa. In the pictures, Shloka was seen in a floral kurta. While akash was seen holding his son prithvi in his lap and mukesh ambani was seen standing with folded hands. In another picture, mukesh ambani can be seen holding his adorable grandson prithvi in his arms. He sought blessings by touching the wall of the temple.
మరింత సమాచారం తెలుసుకోండి: