Alia Bhatt wrote an emotional note on the death of Nana Narendranath, Soni also said goodbye to her father with a heavy heart
Actress alia bhatt has written an emotional note sharing an emotional video on the death of her maternal grandfather Narendranath Razdan. At the same time, his mother soni razdan has also said goodbye to his father with a heavy heart.
Narendranath Razdan, the maternal grandfather of bollywood actress alia bhatt, has passed away today i.e. on june 1, 2023, at the age of 95. Along with alia, her mother soni razdan has also shared this sad news with fans through an emotional note in her social media post. 
Alia Bhatt's maternal grandfather Narendranath Razdan passed away at the age of 95
According to the information, Narendranath Razdan was ill for some time. He was admitted to 'Breach Candy Hospital' some time ago due to a lung infection. Since his infection had increased a lot, the doctors decided to admit him to the ICU. However, now he has left this world saying goodbye
Soni Razdan wrote an emotional note for her father
Soni Razdan shared the sad news of her father's demise by sharing an emotional post on her instagram account. Sharing a picture of her father, she wrote, "Daddy, Dada, Nindi - our angel on earth. We are so grateful to call you our own. So grateful to live life in your light. You are a part of us with you." taken away, but we will never be separated from your soul. It resides in all of us."
He further wrote, "You will always remind us what it means to be alive. Wherever you are – it is a happy place now because of that beautiful laugh of yours. We love you so much for your craziness, beauty, and funny nature – until we meet again.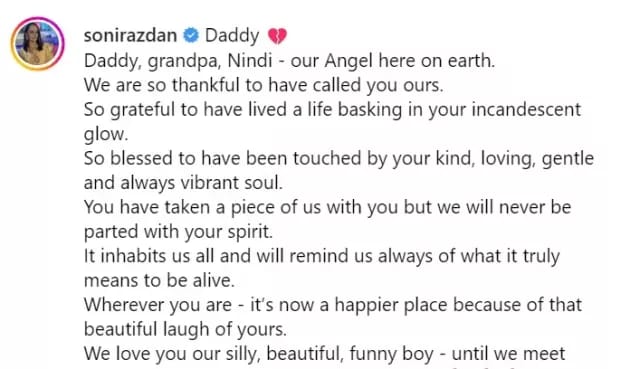 Alia Bhatt shared a memorable video on the death of her maternal grandfather
Alia Bhatt also shared a video of her maternal grandfather's birthday from her instagram account and wrote an emotional note for him. In the video, Aaliya's maternal grandfather Narendranath is seen celebrating his birthday, while he can also be heard asking her to always smile. Alia's husband and actor ranbir kapoor is also seen in the video.  
Sharing the video, alia wrote in her note, "My grandfather. my heroes. Played golf till 93, and worked till 93. Best omelet ever made. Told great stories. Played the violin. Play with your granddaughter. He loved cricket. He loved sketching. He loved his family and till the last moment.. loved his life! My heart is full of sadness, but also full of happiness.. because we feel blessed and grateful for the happiness my Nanaji has given us, that he raised us with light. Lots of love till we meet again
మరింత సమాచారం తెలుసుకోండి: