'No ATM'...Only UPI is enough now...!? 


National Payments Corporation has introduced an ATM cash withdrawal facility using a UPI facility.

UPI Transaction:
UPI (Unified Payments Interface) is a facility to easily manage multiple bank accounts through a single mobile app. Last year 2016 NCBI Launched the UPI system with 21 banks. Now UPI has grown tremendously and through various apps like Gpay, Paytm, and PhonePe, from tea shops to jewelery shops, the use of UPI has increased. The central government has said that various changes and improvements in the UPI technology are being implemented to improve the convenience of the users. Various new facilities are being introduced to take wallet PLATFORM' target='_blank' title='digital-Latest Updates, Photos, Videos are a click away, CLICK NOW'>digital transactions to the next level and provide enhanced user experience.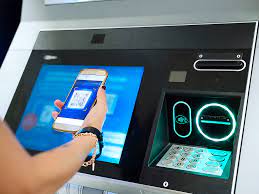 New feature:
In that line, National Payments Corporation has now introduced the facility of ATM withdrawal using UPI numbers. While previously everything was done using an ATM card, now the facility of withdrawing money through UPI without an ATM card has been introduced. An ATM with this facility was put on trial at the Global Fintech Fest held in Mumbai. As of now it only runs on the BHIM app. The facility is said to be available in all UPI apps in the coming days. The UPI ATM service is expected to be rolled out to people across the country in a phased manner. Union minister Piyush Goyal shared a video of a fintech influencer withdrawing money from a UPI ATM on X (Twitter).



First, you have to click on the 'UPI Cardless Cash' option at the UPI ATM.
Subsequently, the screen will show Rs.100, Rs.500, Rs.1000, Rs.5000. They have to click on how much money they want.
Then, scan the QR code that appears on the screen with the UPI app.
After that, you need to enter the UPI code number.
Once the UPI PIN is confirmed, users can withdraw money from the ATM.

మరింత సమాచారం తెలుసుకోండి: