Vijay's film titled 'Varisu'..!  Vijay fans cant keep quiet..!
With the first look poster of the upcoming Thalapathy66 movie starring Vijay being released at 6.01 pm today, Vijay fans are trending the hashtag # thalapathy66FLDay on Twitter. The crew has titled the film "Varisu". Actor Vijay has signed with the director Vamshi after the film 'Beast'. From the day the news was officially released, Vijay fans started filling twitter and instagram with the hashtag # Thalapathy66.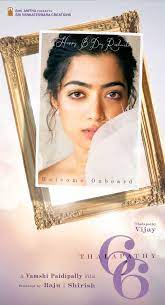 The day before yesterday, the film crew announced that the first look poster of Thalapathy 66 will be released at 6.01 pm today, according to Sri Venkateswara Creations, the production company of Thalapathy 66, on its official twitter page. This was confirmed by the director of the film vamsi who Re-tweeted it.
First Look Poster:
Following the official information from the director and the production company, fans re-tweeted and liked the trending twitter post from the production company.
 Following the release of the film's first look poster at 6.01 pm today, actor Vijay's fans have been trending the hashtag # thalapathy66FLDay on Twitter.
Prakash Raj-Vijay Alliance:
Many have speculated that the film will be a Pan india film as South indian celebrities are already playing the lead roles in the film. Composer S Thaman is composing the music for the film. 
The film stars Vijay opposite his ardent fan and telugu actress rashmika Mandanna. Actor Prakash Raj's collaboration with actor Vijay after the movie Ghilli has created great anticipation among the fans.
మరింత సమాచారం తెలుసుకోండి: