'I was a fan of shahrukh khan from Karol Bagh, didn't think I would work with him one day
Actor Chandan Roy Sanyal, who came to the forefront of hindi cinema's formidable actors by playing the character of Bhopa Swami in the series Ashram', started his career as an actor by playing a small role in director Rakeysh Omprakash Mehra's film 'Rang De Basanti'. Then through films like 'Kaminey', 'Jazbaa', and 'Jab Harry Met Sejal', he gradually made his place in hindi cinema. He is the star of OTT and after a long time one of his films 'Woh Teen Din' has reached the theaters.'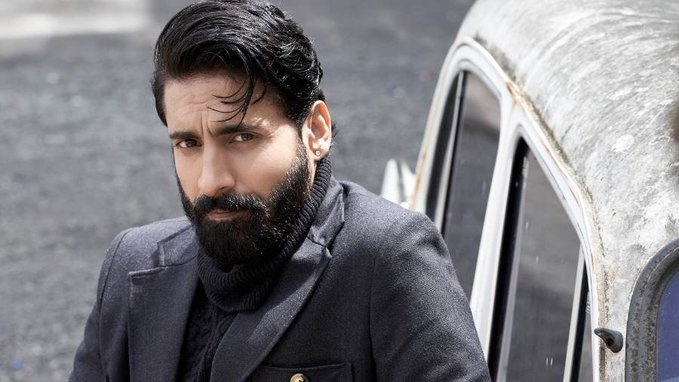 In a special conversation with 'Amar Ujala', Chandan Roy Sanyal says, 'Yes, after a long time my film has reached the theater. The advent of OTT has changed the way storytelling is done in films as well. New characters are being written. This is also an offbeat film.
Chandan Rai Sanyal says, 'Cinema has changed a lot since the year 2019. Today, social media and OTT are dominating cinema. The changing times are good as well as bad. The good thing is that new content is coming on OTT. Today the audience has many options. If a show is not liked for two minutes, then there are many other options after that. The bad thing is that the man is stuck on the mobile all day long. What is happening around him? He didn't know.
Dan Roy Sanyal's father Govind Sanyal used to work in delhi and his mother Vandana Sanyal is a housewife. Chandan Roy Sanyal says, 'As an amateur, he used to do plays in school. The hobby became a passion than a profession. father was wondering who does acting. This is the profession of elders. Get a job after studying and take care of the house after getting married. Acting in films is the job of the rich. We are not like people.' After graduating in Mathematics, Chandan Rai Sanyal got his first opportunity in film in Rakeysh Omprakash Mehra's film 'Rang De Basanti'.
In the film 'Rang De Basanti', Chandan played a small role in Batukeshwar Dutt. He says, 'I didn't know anything about cinema at that time. How the shooting was done, kept watching. When I worked in 'Kaminey' and the film was screened, seeing my work, priyanka chopra said that she has done a great job.
You will go a long way. He was greatly encouraged by this. Got a chance to work with irrfan khan in 'Jazbaa'. I had a lot of respect for him and getting a chance to work with him has not only been a different experience, but it has also become a unique life lesson. Born on 30 january 1980 in Karolbagh, delhi, Chandan Roy Sanyal has worked with shahrukh khan in the film 'Jab Harry Met Sejal'. Chandan Roy Sanyal says, 'Shahrukh Khan also lived in Karolbagh, Delhi. When I told him that I am also from Karol Bagh, he was very happy. I have been a huge fan of his and got a chance to work with him. A lot of things happened to him during the shooting. We also used to rehearse with people before shooting.
Despite being a superstar, he is a down-to-earth person. I have been his fan since the days of Karol Bagh. Didn't think I would ever work with him.
మరింత సమాచారం తెలుసుకోండి: