Vani jayaram FIR: Suspicious vani Jayaram's death?

When another aunt, Uma, went and opened the door, vani jayaram was lying dead next to the bed, beaten with a teapot, bleeding to death, said vani Jayaram's nephew. vani jayaram, the legendary playback singer of tamil cinema, passed away on february 04 at her home in Nungambakkam. vani jayaram, who has sung in more than 10 thousand languages in 19 languages including tamil, has won many awards National Awards 3 times, Bharat Ratna, and Padma Bhushan.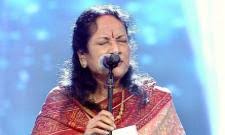 Death due to a blow to the head:

A week before her death, she was announced with the Padma bhushan and shared a video of her singing in good health, and she thanked for the award. vani Jayaram's sudden death within a week of that, with a blow to her head, raised suspicions that it was an unnatural death. After the death of her husband in 2018, vani jayaram has been living alone. On the day of her death, a woman called Malarkodi who went to work at his house rang the bell several times and when the door was not opened, vani jayaram did not pick up the phone.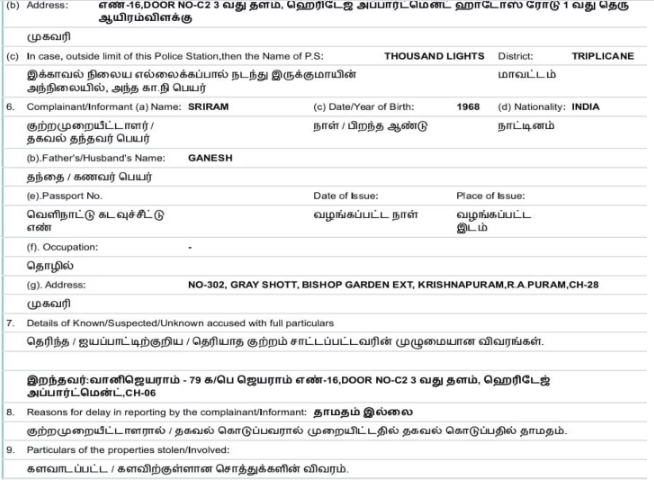 Suspicious of death?

After this, the residents of the lower floor of her house informed the police department and vani Jayaram's sister, when they came and broke into the bedroom, they found vani jayaram with an injury on her forehead. In this case, earlier, based on the report of the forensic department and autopsy, the police informed that there is no doubt about vani Jayaram's death. In this case, the first information report of vani jayaram that has been released has confirmed that there is no doubt about vani Jayaram's death. In the first information report, the information shared by Sriram, vani Jayaram's nephew, has been mentioned to the police department.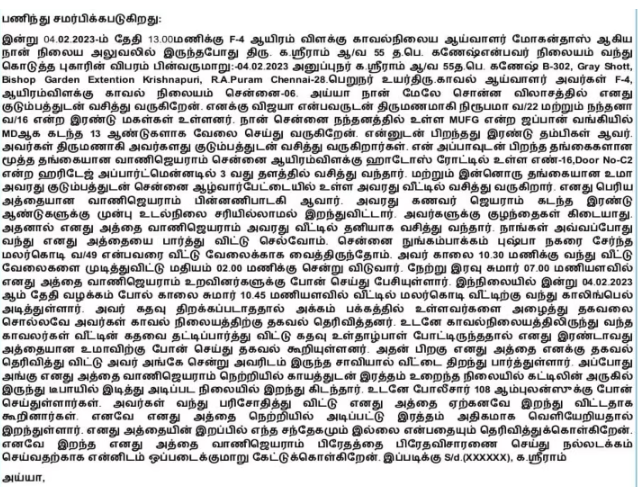 First Information Report:

108 Ambulance was informed and they checked and said that the aunt was already dead. vani jayaram died due to a blow on her forehead and bleeding profusely. There is no doubt about her death, she told the police. While chief minister M. K. stalin had ordered the burial of vani Jayaram's body with the respect of the police department on Feb. 05, her body was honored and buried with the sound of 30 bullets. Many political leaders including tamil Nadu governor RN Ravi, chief minister stalin, the film industry, and fans paid respects to her body. vani Sriram, who is known for his songs 'Mallikai En Mannan Mayangum', and 'Meghame Meghame...' caused concern among the film fraternity when she passed away to receive the Padma bhushan award.

మరింత సమాచారం తెలుసుకోండి: