Shocking comment about rashmika in pushpa by this actress??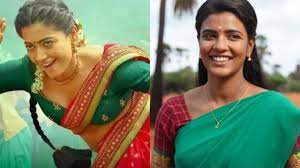 Aishwarya Rajesh gained recognition for her work in numerous tamil films. However, the actress has also appeared in telugu films such as Republic, Tuck Jagadish, World Famous Lover, and a few others. The actress is renowned for her character choices, and each of her films reflects this. 
Both of her most recent books, Great indian Kitchen and Farhana, received favourable reviews. The actress talked about telugu film in the meantime and said some interesting things.
I like the telugu industry, but I want to do a decent telugu film like a return that would make my family proud because of my background, the actress remarked when speaking with reporters about the telugu film industry. The movie World Famous Lover, in which I co-starred with Vijay Deverakonda, didn't turn out as planned.
She continued by saying that if she had the chance to work on a movie like pushpa, rashmika Mandanna's role Srivalli would have been a better fit for her than her. "Had I been given the chance, I would have seized it. rashmika did a good job portraying Srivalli, but I think I would be a better fit, she continued. 
Regarding Farhana, the narrative centres on an incident that occurs to the Muslim woman who works in a contact centre. After the teaser for the movie was released, it caused controversy since it implied that it would offend religious sensibilities. Dream Warrior Pictures confirmed in a statement that the censor board had approved the film and that it did not specifically target any faith.
మరింత సమాచారం తెలుసుకోండి: