5 actresses Anirudh dated till now..!?

  Dhanush's different performance is the film 3. The songs featured in the film would have given it extra specialness. And these songs were composed by Anirudh. After the success of the film, Anirudh has been at the top of the list of best music composers with his subsequent efforts. And here you can find about 5 actresses who became friends with him and went on to date.


Andrea: She and Anirudh had a musical friendship. And there was a lot of talk about her friendship with Anirudh, who was five years younger than her, after which they both went to parties and functions together. Subsequently, Andrea's video was released and caused controversy. It is noteworthy that Andrea, considering them too big, broke his friendship.

Keerthy Suresh: Keerthy suresh said that the dating rumors with Anirudh don't bother him much and they are good friends. After that, rumors about their marriage also came out. Keerthy suresh, who did not care about this, has remained friends with him to date.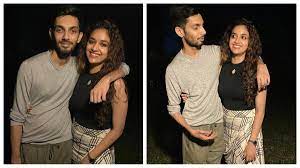 Shruti Haasan: shruti haasan paired opposite dhanush in the movie 3. Anirudh will be the music director of the film. shruti haasan and Anirudh's friendship started through this film. Further to that, Anirudh has also got shruti haasan to sing a song in Maan Karate. It is also worth noting that even though there was gossip about their dating, they did not pay much attention to it.

Priya Anand: While her friendship with Anirudh has been talked about a lot, priya anand has said that we are nothing but good friends. He has also made it clear that he does not want to explain the actions of those who are spreading such rumors just for the sake of controversy.


Jonita Gandhi: Her songs in AR rahman and Anirudh's music have given many hits. She was rumored to be associated with Anirudh through songs like Chellamma, Arabik Kuthu, and Private Party. After that, they were just friends. Jonita gandhi has been saying that he doesn't care much about such rumors.

మరింత సమాచారం తెలుసుకోండి: