Ileana introduced the father of her child..!?

Ileana has become a star heroine in Tollywood. She mesmerized everyone with her waist beauty. For a long time, she played and sang with almost all the young heroes of Tollywood. After that, she moved to Bollywood. This beauty, who has grabbed the opportunities of succession there too, is now going to be a mother. She dated a man in the past. But she announced that she broke up with him. After that, there were reports that she started dating katrina Kaif's brother but she did not give any clarity on the matter. As a result, she became pregnant but the question arose as to who the father was. Ever since she announced her pregnancy, netizens have been asking the same question as she has shared baby bump photos. All asked who is the father of the baby. Remarkably, no reply was received from Ileana.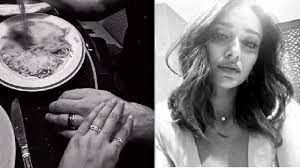 But no matter how many questions people ask, she does not answer every day, she recently introduced her boyfriend. She said without saying who is the father of the child in her womb. She shared a photo with her boyfriend. But the strange thing is that there is no real understanding of who the person is in that photo. It seems that there is a person there with Ileana. But it is not clear that he is nobody. Although the photo did not give clarity, the relationship with him was confirmed.
She said that in these days when she had forgotten herself, she met a person who gave her courage. She said that he wiped away her tears and made her smile. Remarkably, she posted that nothing would be difficult for her if he stood by her side saying that he understood what she wanted without saying anything. And let's see if her boyfriend is releasing a clear photo now. As far as films are concerned, this beauty is currently acting in a hindi film called 'Unfair and Lovely'.

మరింత సమాచారం తెలుసుకోండి: