Meghalaya Results: How is the bjp condition?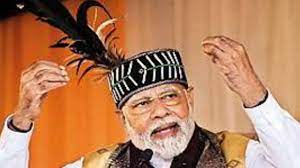 Counting of votes is underway for the assembly elections 2023 in Tripura, meghalaya and Nagaland. The prestige of the bjp is at stake in these three states of the Northeast. In the results so far, bjp is seen coming back to power in Tripura and Nagaland. Whereas in meghalaya, the hanging screw seems to be getting stuck. meghalaya is the same state where prime minister Narendra Modi challenged the opposition parties during a rally some time ago and said that 'Modi tera kamal khilega'.
In fact, PM Modi, while addressing an election rally in the capital Shillong on february 24, took a dig at the opponents. During this, he had said that some people are saying that 'Modi teri kabra khudegi', but the people here are saying that 'Modi tera kamal khilega'. This prediction of PM Modi does not seem to be proving correct.
In meghalaya, the ruling National People's party (NPP) has an upper hand in the trends till 4 pm. According to the latest election commission results, the NPP is leading in 25 of the 60 assembly constituencies for which polling was held on february 27. While bjp is leading in 4, congress in 5, TMC in 5 and others in 20 seats.
మరింత సమాచారం తెలుసుకోండి: