PM Modi's security breach - Action taken against DGP...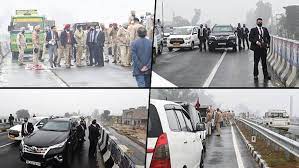 The problem of prime minister Narendra Modi's security failing is currently being addressed in Punjab. Now, in this delicate situation, chief minister Bhagwant Mann has commanded to begin disciplinary action against the former punjab DGP S Chattopadhyay and two other police officials. In this instance, 9 police officers were recently suspended. On january 10, 2022, prime minister Narendra Modi left for a tour of punjab but had to turn around halfway through for security concerns.
The now-retired S Chattopadhyay, the former Senior Superintendent of police (SSP) of Ferozepur Harmandeep Singh Hans, and the former Deputy Inspector General of police (DIG) of Ferozepur range will all face disciplinary action. These officers would be requested to provide their own justification, according to official sources.
Many police officers are on target
Bhagwant Mann also determined that the then-ADGP (Law and Order) naresh Arora, the then-ADGP Cybercrime G Nageshwar Rao, as well as Mukhwinder Singh Cheena (the then-IGP Explanation should also be sought from patiala Range), and other officers. This is according to a letter sent by the punjab Home Department to the Department of Personnel on Monday. A supreme Court-appointed commission that was looking into security lapses during prime minister Modi's visit to punjab in january 2022 had indicted several state officials. Protesters in Ferozepur stopped the road on january 5, 2022, and prime minister Narendra Modi's convoy became stranded on a flyover. After that, he left for punjab without going to any events, not even the gathering. The supreme court established a committee to look into the breaches on january 12 of last year.
మరింత సమాచారం తెలుసుకోండి: