Which countries are most affected by Cyclone Biparjoy..!?

Will cyclone 'Biparjoy' cause major damage to countries along the arabian sea including india, Oman, Iran, and Pakistan?
A depression formed in the arabian sea turned into a storm. The india Meteorological Department said the storm, named 'Biparjoy', is currently centered 820 km west of Goa. Cyclone Biparjoy is forecast to strengthen in 48 hours and move north and northeast. The india Meteorological Department has said that due to the impact of CycloneBiparjoy, tamil Nadu, kerala, Puducherry, and Karaikal will receive moderate rain for five days. During the next 36 hours, Biparjoy is likely to strengthen gradually and keep moving in a north-northwest direction during the next 48 hours, likely to stay away from the indian coast. However, a warning has been issued to the fishermen.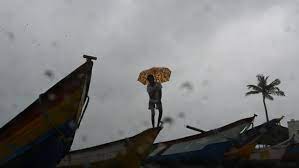 As Cyclone Biparjoy moved northwards and centered 900 km south-southwest of Gujarat's coastal Porbandar district, fishermen have been asked to return to the coast from deep seas and ports and have been advised to hoist the Distant Warning Signal (DW II), PAPDI reported. Due to the cyclone, the wind speed may increase to 45 to 55 on june 10, 11, and 12. The maximum wind speed may touch the 65-knot mark. This cyclone will bring only very light rain and thundershowers over coastal areas including Saurashtra and south Gujarat. All ports are on remote warning. The signal has been requested to be loaded, PTI quoted manorama Mohanty, Director, Meteorological Center, IMD, ahmedabad as saying.Meanwhile, Southwest Monsoon started in kerala yesterday. The southwest monsoon, which normally starts on june 1, has started a week late. Due to Southwest Monsoon, most of kerala, parts of tamil Nadu, Karnataka, and North-East will receive monsoon rains during the next 48 hours, the IMD said on Thursday.

మరింత సమాచారం తెలుసుకోండి: