Ugadi Festival: Ugadi celebrations in India...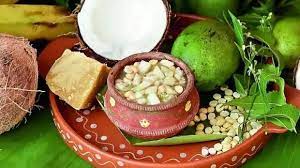 One of the well-known Hindu holidays, Ugadi is observed with much fanfare and pomp. The telugu and kannada people observe Ugadi as their New Year. Hindus are not the only ones who observe it; Sindhis and Maharashtrians also do. In various states, the festival goes by distinct names. The names "Ugadi" and "Gudi Padwa" are used by the people of andhra pradesh and Karnataka, "Cheti Chand" by the Sindhis, and "Gudi Padwa" by the people of Maharashtra. This holiday is observed differently in every state.
How is the event observed?
Every year in April, people enjoy the Ugadi festival. On this day, the entire state comes together to celebrate and have a great time. The lunisolar calendar determines when the celebration is. The people are celebrating the start of the new year and the first day with tremendous joy. It is said that if the first day of the new year is spent joyfully, the remainder of the year will be as well. At this event, everyone celebrates the start of the new year in a big way. Additionally, they make a unique dish called "Ugadi Pachadi" for family and friends while dressing in both new and traditional attire. 
The unique meal is prepared with ingredients like raw mango, neem, jaggery, and tamarind along with salt and chile. Along with these dishes, bobbatlu, holige, puliogure, and pulihora are also made. In addition, some people hang a chain of mango leaves from their entrance to invite happiness into their lives.
మరింత సమాచారం తెలుసుకోండి: