Virat Kohli's Naatu Naatu song which won the Oscar..!?

A video of indian cricketer kohli dancing to the Oscar-winning song "Naatu Naatu" at Mumbai's Wankhede Stadium has gone viral on the internet.

Oscar winning song "Naatu Naatu":

Directed by Rajamouli, ram charan and Jr. N.T.R. starred rrr movie was a big hit last year. The Naatu Naatu song featured in this film has been a hit at the box office and has attracted fans worldwide and has gone viral on social media as well. The song also won an oscar for Best Original Song as a top honor.
 Music composer MM keeravani and lyricist chandra bose won an oscar for this song. It is considered as the pride not only for rrr films but also for the indian film industry.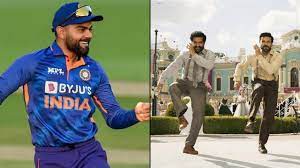 Kohli who danced:

In this context, the first ODI between india and australia was held yesterday at the Wankhede Stadium in Mumbai. Then, when the indian team was fielding, virat kohli danced to the dance moves of the 'Naatu Naatu' song. He danced to this song when he stood as a slip fielder. In particular, he was doing the iconic moves of the Naatu Naatu song, the one-legged swing dance moves. The related video has now gone viral on social media. Meanwhile, Ramcharan, one of the heroes of the rrr film, has expressed his desire to act in Kohli's biopic.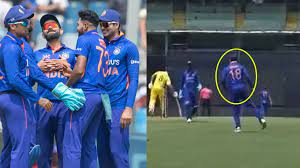 ODI Series:

The first ODI between india and australia was played in mumbai yesterday. indian team won by 5 wickets. KL rahul scored 75 runs. Jadeja scored 45 runs and captain Pandya scored 25 runs. The much-anticipated kohli was a disappointment as he was dismissed for 4 runs. However, india took a 1-0 lead in the 3-match series thanks to rahul and Jadeja's brilliant performances. Accordingly, the second match of this series is going to be held in Visakhapatnam tomorrow.

మరింత సమాచారం తెలుసుకోండి: