MS dhoni mobbed by indian soldiers...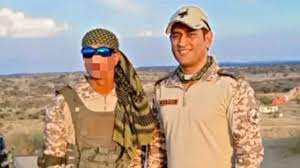 Ms dhoni In army Camp: Mahendra Singh dhoni, a former captain, currently holds the standard title of Lieutenant Colonel in the Territorial Army. mahi arrived at the army camp in Jodhpur.
IPL 2023 is going to start in a few days and its preparations are going on in full swing. chennai Super Kings captain mahendra singh dhoni is also busy preparing for IPL these days. However, on Thursday, he took some time to reach the army camp and took a tour in the army's open jeep. dhoni spent a lot of time in jodhpur army Camp.
Crowd of fans gathered to get a glimpse of Dhoni
It has been more than 3 years since mahendra singh dhoni retired from cricket, but even today his craze in the minds of the fans has not diminished. A huge crowd of fans gathered in jodhpur to get a glimpse of Dhoni.
Dhoni arrived at the airport wearing a mask
According to media reports, dhoni had put on a mask at the airport so that the crowd did not gather. Some media people were present and they saw dhoni and by then the crowd of fans had started gathering. In such a time the army vehicle arrived and dhoni left sitting in it. He spent a lot of time with the jawans in the jodhpur camp and was himself in army uniform.
మరింత సమాచారం తెలుసుకోండి: