Bangladesh's ruling Awami League government is thought to have chosen to reinstate the secular constitution of 1972. This would nullify Islam's status as the country's official religion. 
This decision is made at a time when Hindus in the country were being targeted by blasphemous rumours.
Since the attacks began on october 13, eight people have been killed, and hundreds of Hindu homes and temples have been damaged. Islamic radicals have warned the Awami League administration that if a bill repealing the 1972 secular constitution is submitted in parliament, further violence will erupt.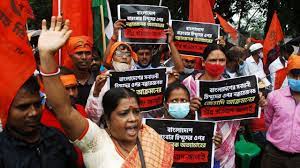 We have the blood of liberation fighters on our bodies, and we have no choice except to return to the 1972 constitution. I will speak in parliament about restoring the constitution... even if no one talks", Murad Hassan speaks."
Threats of violence have been made in response to the announcement.
Fundamentalist religious figures such as Jamaat-e-Islami and Hifsat-e-Islam have warned to kill if such a measure is adopted. islam was, is, and always will be the state religion.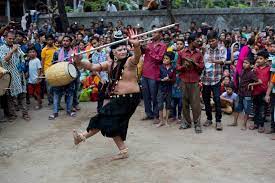 Muslims are the ones who have liberated this country. Their faith cannot be mocked. We are willing to make whatever sacrifice to retain islam as the official religion, said Hifas general secretary Noorul islam Jihadi.
Murad Hassan's declaration was rejected by even Awami League heavyweights, such as former mayor Kokon because it was not debated in detail within the party.
If Sheikh Hasina had not been informed of Murad Hassan's announcement at this time of violence against Hindus in the country, the party leadership would have forcefully denounced him, a top Awami League leader who did not want to be identified stated. 
More than fifty rioters were apprehended by the police, including two shoppers from the Hindu God's footwear and the diamond. 
During elections, there was violence against Hindus.
Former Communications minister Tarana Halim claims that during elections, the country's Islamic climate targets Hindus. In this light, the anti-Hindu violence that occurred during durga puja should be seen. 
The Taliban's return to power in afghanistan has boosted Islamists, but he believes the Awami League would win the legislative elections in december 2023. 
This is a disgrace, said Barrister Shah ali Farah, a former special aide to the prime minister and now an Oxford Fellow. The Hindus must be protected. This is why prime minister Sheikh Hasina looks to be planning a return to the secular constitution of 1972.
మరింత సమాచారం తెలుసుకోండి: