India's Largest Helicopter Production to be Inaugurated...
The largest helicopter manufacturing company in the nation will be officially opened by prime minister Narendra Modi on monday in Tumakuru, Karnataka. This is considered as a boost for the "Aatmanirbharta" initiative in the defence manufacturing industry, the defence ministry announced on Saturday.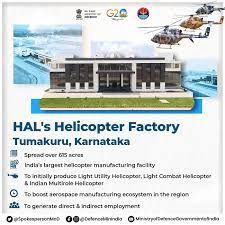 The light utility helicopters (LUH), light combat helicopters (LCH), and eventually indian multirole helicopters will be produced at the Hindustan Aeronautics Limited (HAL) helicopter factory, which spans 615 acres (IMRH).  In 2016, PM Modi lay the facility's foundation stone.
More than 1,000 helicopters weighing between 3 and 15 tonnes will be built by HAL over a 20-year period, with a total market value of more than 4 lakh crore. The Tumakuru facility will increase local economic growth in addition to creating direct and indirect jobs through its CSR initiatives, the government said in a statement. The company will invest significantly in these large-scale community-centric programmes," it added.
According to the statement, the facility is being designed with the intention of serving as a one-stop shop for all of the nation's helicopter needs. After passing a flying test, the factory's first LUH is now ready for public display. According to the government, the facility will initially build about 30 helicopters annually, with the capacity increasing gradually to 60 and finally 90.
To increase self-reliance in the defence industry, india has placed a phased import restriction on 411 different weapons and systems, including several types of helicopters. Over the next five to six years, these are anticipated to be indigenized in stages.
మరింత సమాచారం తెలుసుకోండి: