Change the boarding place even after booking the train ticket..!?

Every day lakhs of people travel across india by train. They travel from kashmir to Kanyakumari by booking. people plan ahead for such long-distance journeys and book train tickets a few months in advance. Then, they will give the place of departure in the existing environment. However, sometimes depending on the circumstances, it may not be possible to board the train at the departure point. It may be necessary to change the place of departure immediately.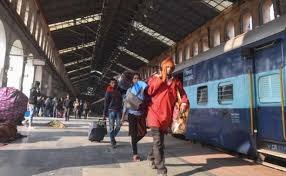 Considering the requests made to the Railways in this regard, the Railways have also given the facility to change the place of departure. Accordingly, passengers can change the place of departure on their booked train ticket 24 hours before the departure of the train. This facility is available online only. You cannot change the place of departure if you have visited the railway stations directly or booked train tickets through travel agents.
How to change the boarding point in IRCTC?

* Login to your irctc account

* Go to My Account, followed by My Transactions and Booked Ticket History.

* Select the ticket you want to change and select the 'Change Boarding Point' option below.

* irctc will display the list of stations between the selected train route. Select Change.

* To apply the change click on OK.

If the boarding point has been changed, a success alert will appear on the right. A related message will also be sent to your mobile number. You don't need to pay any fee separately for this. This service is best suited for travelers who book long in advance. Take advantage of this facility if you need it. Don't be fooled by the fact that you can't change the place of departure.
మరింత సమాచారం తెలుసుకోండి: