Anushka Sharma's post-workout selfie!!!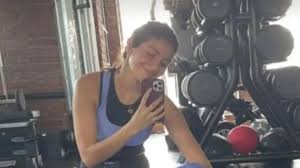 Actress anushka sharma remains very active on social media. She is seen sharing interesting posts every day to stay connected with her 62.7 million fans. At the same time, recently anushka has come into the headlines for one such post. She shared a selfie after the workout. In this selfie, she is seen spending time with her special friend. This fellow is not Virat Kohli. Anushka's partner in the selfie is looking very cute to her fans.
Actually, anushka sharma has shared a picture in the story on her instagram account. In this picture, she is seen in her gym. She is wearing a blue-coloured gym outfit and she is seen sitting on the ground taking a mirror selfie. A special companion is seen in this selfie, whom anushka has described as her post-workout companion. This companion is none other than her dog, whose name she has mentioned in her post as 'Leo'. It is evident from the photo that Leo has a very good bonding with Anushka.
Like every time, this post of anushka is also going viral on social media. Seeing this post, the fans of the actress are seen asking about Virat Kohli. Let us tell you that recently Virat shared his love story with anushka in a conversation with former South African batsman AB de Villiers. He told that he was very nervous about meeting his wife for the first time but after that, both became friends and then after some time the friendship turned into love.
మరింత సమాచారం తెలుసుకోండి: