This man made Chole-Bhatura ice cream, people said – only this was left to be seen
Chole Bhature ice cream Video: To get attention on social media, nowadays people are seen experimenting the most with foods. Many times unique dishes are being invented in this.
Unique experiments are being seen in the era of social media. In the passion of getting public attention by posting their videos on social media, people are experimenting the most in foods. One such strange experiment has become very viral, in which a person has made ice cream of everyone's favorite dish 'Chole-Bhature'. While people are surprised to see its video, they are also reacting in a very strange way.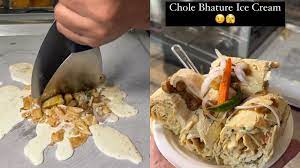 How is the ice cream seen in the viral video

The viral video has been shared with the insta handle named cravingseverytime, whose caption has been given 'Keep watching till the end.' In the beginning of the video, a person is seen cutting Bhature into small pieces. After this, he mixes chickpea curry, onions and green chilies in it. Then after pouring cream over it, the whole mixture is mixed well. After chopping for a while, this mixture becomes like ice cream, after making small rolls, that person keeps it in a plate. After garnishing it again with some chickpea curry, pickle and chili, the ice cream is given to eat.


Video is going viral

This video has become extremely viral on social media. More than 12 thousand people have watched this video so far. people watching have also made strange comments on this. One user wrote, a friend of mine also used to do similar experiments, then eunuchs took him away. Another user wrote the dialogue of the famous character Babu Bhaiya from the film Hera Pheri, Utha Le Re Deva. One user wrote, this was all that was left to be seen. Another user wrote, the end is near.

మరింత సమాచారం తెలుసుకోండి: