Anurag Kashyap's daughter Aaliyah will hold an engagement party in august 2023, wedding date also revealed
Recently, bride-to-be alia Kashyap has opened up about her wedding plans and revealed that she will be hosting her engagement party in august 2023.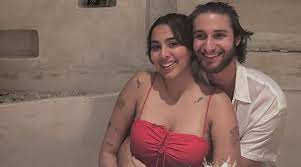 Alia Kashyap, daughter of filmmaker anurag kashyap , is one of the most popular star kids in the entertainment industry. Even though she has not made her debut in Bollywood, but she is quite famous on social media. At present, alia is enjoying the beautiful phase of her life.

Recently she got a dreamy proposal from her long time boyfriend Shane Gregoire in Bali, indonesia and she was very happy about it. Apart from this, alia also hosted a beautiful bridal shower which was attended by her friends and now alia has revealed her wedding plans.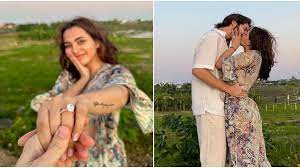 Alia Kashyap talks about her marriage plans On 6 june 2023, alia Kashyap shared a new video on her YouTube channel with fiance Shane Gregoire. In the video, both answered a lot of questions asked by the fans. When asked about her engagement party, the soon-to-be bride revealed that she is going to host two parties, one in the US with Shane's family and the other in India. alia also revealed that there will be an indian engagement party in the first week of august 2023.


In his words, "We will have two engagement parties. One in the US with his (Shane Gregoire) family and the other in india, which we are going to do in early august 2023. We have a venue and stuff, we are planning Are."

Alia Kashyap will marry with two customs
Also, Aaliya and Shane were asked about their wedding date if they will have two weddings. Talking about the same, the newly-wed couple revealed that they will tie the knot in 2025 as they want to enjoy the engagement before marriage. alia and Shane also shared that they will get married in a traditional Hindu wedding ceremony in india and then in a Christian ceremony in the US.


Alia's boyfriend said that he is looking forward to an indian wedding as it is more special. The couple said, "We haven't finalized a date yet, but we are planning to do it by spring 2025, as we want to enjoy the engagement at this point. We will have an indian and white wedding here in the US." "

In the same conversation, alia and Shane were asked where they plan to live after their marriage. Answering this question, the lovebirds revealed that both are close to their respective families, so they will be sharing their time equally. Aaliya also reveals that they will be living in india for six months and then with Shane's parents for six months.

Alia spoke on trolling for getting engaged at the age of 22
Alia also talked about the trolling she faced for getting engaged at the age of 22. He told that he was trolled for his life choice, but it does not bother him. alia also said that she felt she was ready for this new journey and that she always knew she would marry Shane.


In her words, "For me, it's my life. If I feel ready, I'm ready. We're both ready, we've been together for three years. I know I'm very happy in this relationship and she I'm my soulmate. If people hate on us getting married at such a young age, I really don't care. I know we're young, but I really don't care."

Alia and Shane's dreamy proposal
On 20 May 2023, alia shared a series of pictures from her dream proposal on her instagram handle. In the pictures, alia was seen flaunting her huge diamond ring. alia looked beautiful in a muted patterned midi dress with ruffle sleeves. alia had also written a lovely note while sharing the pictures.

మరింత సమాచారం తెలుసుకోండి: