Parveen Babi's love life: affair with Danny-Kabir and Mahesh, still remained lonely in the end
Here we are going to tell you about the love life of veteran late actress parveen babi, who fell in love many times, but spent her last days in loneliness.
Bollywood actresses are not only known for their films, fashion sense and lifestyle, but their personal life is also always a part of the headlines. By the way, upheaval in relationships is common in Mayanagari, but there have been many stars whose love life has always been a topic of discussion. One such actress has been parveen babi . Parveen was such an actress, who had many affairs, but she remained lonely in the last time.
The glamorous actress of the 70s, Parveen played bold characters in her era, which were way ahead of her time. Parveen became the first indian woman to appear on the cover of 'Times Magazine'. However, she was also in the limelight for her relationships with co-stars such as mahesh bhatt, amitabh bachchan, kabir bedi and Danny Denzongpa. Although amitabh never accepted such relations, the other three men always accepted their relationship with him.
Parveen Babi's first boyfriend Danny Denzongpa
It was in the year 1974, when parveen babi and danny denzongpa were in a relationship and were often seen together at public events. The two also partied with other B-town friends, including kabir bedi, his wife Protima Bedi and Jalal Agha. Parveen and Danny were in a romantic relationship for four years and shared a good bond.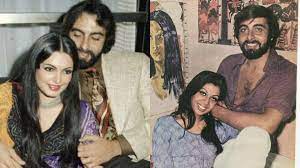 In an old interview with 'Filmfare', Danny once talked about the beautiful times he had with Parveen and said, "We were two young kids and we stayed together for four years. It was big news in those days. . We had an amazing time, but we later parted ways on a good note. We remain friends."
Parveen later got attracted to Danny and their common friend kabir bedi, who was married at that time. Journalist-turned-writer Karishma Upadhyay recounts Parveen's breakup in her memoir 'Parveen Babi: A Life'.
It read, "Danny couldn't believe his ears, not because Parveen and he (Kabir) were in a relationship, but also because Protima and Kabir were his friends. The ending of the relationship with Parveen was drama free There were no fireworks or sob fests, and just like that an important chapter in their lives ended."
Parveen Babi's 'controversial' affair with married Kabir
Actor kabir bedi wrote a memoir titled 'Stories I Must Tell' during the lockdown caused by the Corona pandemic. In this memoir, Kabir has also written a lot about his love life and his relationship with his first wife Protima.
He wrote, "Our marriage (Kabir and Protima's) may have seemed like a good idea at first. In the end, it created a lack of intimacy between us. I didn't feel the love I wanted. Old The magic was gone. I felt lonely, empty and hopeless .
Kabir has also written in his book that Parveen had filled that void. It can be read as, "Parveen Babi filled that void. She was a very beautiful actress with fair skin, black-thick long hair and mesmerizing eyes. Until then, I always thought of her as "Danny Denzongpa's girlfriend". She had a bohemian image in India, living openly with Danny, wearing jeans and smoking in public, but morally a conservative Gujarati girl."
Kabir's first wife Protima and Parveen were good friends initially as a groupie. You will be surprised to know that it was Protima who inspired Parveen to have a relationship with her husband Kabir, but she never thought that Kabir and Parveen would really come so close. Parveen was so madly in love with Kabir that she even went to italy with him. It is about the year 1976, when he was shooting for the film 'Sandokan' in Italy.
However, Kabir later arranged a role for Parveen in the film's second part 'Sandokan Rises Again', but she left the project midway. In an old interview with 'Filmfare', Kabir had said, "Personally I felt that I had been rejected. Professionally, Parveen left the film at the last moment... So yes, Parveen left me and it The truth of the matter is."
Kabir, on the other hand, had divorced his first wife Protima in 1977 and had parted ways with Parveen during the same period. Kabir also reveals in his memoir how his failed relationship with Parveen left him emotionally and mentally exhausted.
When Parveen returned from italy after her breakup with Kabir, she met Mahesh Bhatt. However, by then the filmmaker was married to his first wife, Lorraine Bright, and was also the father of a child. While in a live-in relationship with Parveen, Mahesh came to know about the nervous breakdown of the actress. So he took her to Bangalore to help her recover. The two were in a relationship for two and a half years, but then Mahesh realized that he could not save Parveen.
mahesh bhatt had opened up about his relationship with parveen babi and how he had seen Parveen battling her illness. Narrating an incident of Parveen's ill condition, Mahesh had said, "Some fear used to haunt her. She was like a storm in a room. Sometimes she used to say that there was a bug in the air conditioner. We had to break it. He had to be shown. Sometimes he used to find bugs in fans and perfumes as well.
He further added, "Once we were going back after meeting our friend, philosopher and guide UG krishnamurthy, when he said that there is a bomb in the car. I can hear it ticking!' He opened the door of the car saying that the bomb would explode. I ran to the road to catch them and people thought that Parveen had a fight with her boyfriend. Then I put them in a taxi and brought them home. He was also afraid that Mr. amitabh bachchan was going to kill him. Once she went to Mehboob studio with me, saying she wanted to apologize to him.
In the same interview, Mahesh told that his friend UG krishnamurthy had suggested Parveen to lead a life without the pressure of stardom to control her deteriorating condition. Later in october 1979, Mahesh left Bangalore. Talking about his last meeting with Parveen, he had said, "Even though I had returned to my wife, Parveen knew that I was in touch with UG, who was against her (Parveen) return to films. Were.''
Moving on, Mahesh had said, "I remember it was the same bedroom. We were about to retire. You can call me an exhibitionist, but yes, she wanted to be loved. We were close to each other when he said, 'Mahesh either me or UG.' I froze and stared at them. He glared back at me. I did not respond.''
Eventually, Mahesh and Parveen parted ways in 1980. Reportedly, Mahesh had also made two films on his relationship with Parveen. One of which is 'Arth', in which Shabana Azmi, Kulbhushan Kharbanda, Smita Patil played important roles. Whereas, the second film was 'Woh Lamhein', in which shiney ahuja and kangana ranaut were in the lead roles. Allegedly, these films had a bad effect on Parveen's mental state, as some facts related to her life were revealed in them, which disturbed Parveen.
All three ex-boyfriends attended Parveen's funeral
Even after having three affairs, Parveen's last life was spent in seclusion. In her last days, Parveen lived alone in her flat in Juhu, away from the glare of the media. When one day her neighbors noticed that many of them had not picked up the news paper and milk kept outside the gate, then everyone came to know that the world has lost the beautiful actress Parveen.
It was january 23, 2005, when Parveen said goodbye to this world. However, her last rites were attended by her ex-boyfriends danny denzongpa, mahesh bhatt and Kabir Bedi. Time and again, he has also credited Parveen for his immense success and has also talked about her beautiful soul in many of his interviews.
By the way, everyone knows that parveen babi was a beautiful and excellent actress, whose stardom was different, but there was always a void in her personal life, which could never be filled. Looking at his love story, it can be said that he fought a big battle in his personal life.
మరింత సమాచారం తెలుసుకోండి: