Sana Khan showed a glimpse of her son's first international trip, said- 'He was very calm in the flight'
Recently, former actress sana khan and her husband Anas Syed took their son on his first international journey. Let us show you its glimpses.

Former tv actress sana khan and Anas Syed are enjoying their parenthood journey after welcoming their child on July 5, 2023. After taking care of their child for more than two months, the couple finally decided to take him on his first international trip to London.
Sana Khan did her first international journey with her son
Sana gave a glimpse of her international trip and shared some interesting details about the trip. sana has shared a video of herself with baby boy and Anas. The video shows how the couple was enjoying their time at the airport and in the flight. He was also seen having fun with his child. sana told that Baby remained calm during the entire journey and did not bother anyone.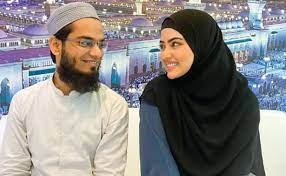 It can be seen in the video that sana is holding her child in her lap and her beloved is sleeping lovingly wrapped in the swaddle. In a glimpse, Anas Syed is also seen carrying his beloved. Whereas, sana is seen loving her baby in the flight.

Sharing the video, she wrote, "Our first international trip with our Hazrat ji, our Maulana Tariq Jameel Sahab was very patient and calm during the entire flight, the cabin crew literally asked us if we did anything to comfort him." Gave medicine. Baby and I were thinking about something during the flight and just shot a few shots.


When sana khan told the meaning of her son's beautiful name
Sana Khan talked about the name of her child for the first time in an interview with 'ETimes'. sana and Anas have named their child 'Syed Tariq Jameel'. Talking about the significance behind the name, sana had shared that they wanted a name that symbolized purity, gentleness, care and honesty. He had said, "It is said that names have a great impact on a person. Hence, we wanted a name that symbolizes purity, humility, caring and honesty. Jameel means 'beauty' and Tariq means 'pleasant'."

Let us tell you that sana and Anas got married in november 2020. The actress had left showbiz around the same time and decided to pursue the spiritual world. The two welcomed their first child in July 2023. They have named their child Tariq Jameel. Since the birth of her baby, the former actress's life has been revolving around her.

మరింత సమాచారం తెలుసుకోండి: