Meta lay-offs: 10,000 workers fired...
Facebook's parent company Meta has once again announced a big layoff. The company has now laid off 10,000 employees. META had fired more than 11 thousand workers last year. The company also announced that it will not fill 5,000 vacant posts while cutting down on expenditure. Meta said on tuesday that it would reduce the size of its employer team and lay off more people in its technology group at the end of April.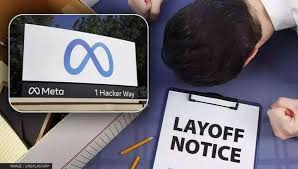 The retrenchment in facebook is not going to stop here. On behalf of Meta, it said that it would lay off employees from the business group at the end of May. Chief Executive Officer (CEO) mark zuckerberg said that it will be difficult but there is no other way. He said that this will mean saying goodbye to the talented and passionate colleagues who have been a part of our success.
11 thousand employees were fired last year
The company has invested several billion dollars to focus on the metaverse. It reported lower profit and revenue in the fourth quarter, hit by a slump in the online advertising market and competition from rivals such as TikTok. Meta had announced the elimination of 11,000 jobs in november 2022 last year.
The company had said that its revenue in the fourth quarter of 2022 was $ 32.17 billion and a total of $ 116.61 billion in 2022, with an increase of 4 percent in the fourth quarter and 1 percent year-over-year for the year 2022. The report said that Meta is also considering conventional cuts, including reducing some projects. These cuts, which are reportedly targeted at the company's divisions, will be done gradually.
మరింత సమాచారం తెలుసుకోండి: