IAF fighter Aircraft Crash: What has happened?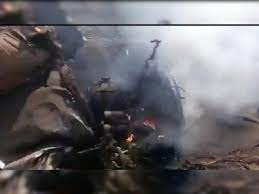 Two indian air Force fighter jets Sukhoi and Mirage-2000 crashed on saturday in Morena, Madhya Pradesh. In which a pilot was martyred. Defense Ministry sources told that Sukhoi-30 and Mirage 2000 aircraft collided in the sky during regular practice. After which both the fighter jets caught fire and one fell in the forests of Morena, while the other jet crashed in Bharatpur, Rajasthan. madhya pradesh police says that the remains of one pilot's body have been found, while two pilots have been saved. Some latest updates have come to light about this accident.
Officials told that two pilots of Sukhoi-30 MKI aircraft came out safely from the aircraft, but the pilots of Mirage-2000 have been martyred. The body of the pilot has been recovered from the Pahargarh area of Morena. At the same time, one of the two pilots who were safely evacuated suffered serious injuries.
Two indian air Force fighter jets crashed this morning near Gwalior, according to a statement from the indian air Force. According to the statement, both aircraft were on an ordinary operational flying training flight.
Defense Ministry sources said that air Chief Marshal VR Chaudhary has informed Defense minister Rajnath Singh about the crash of two air Force aircraft. The Ministry of Defense is closely monitoring the developments.
The air Force said that an inquiry has been ordered to find out the cause of the accident. The rescue operation is going on to remove the debris of the fighter jets from the spot.
Some eyewitnesses say that both planes were seen coming towards the ground at a high speed while catching fire in the sky. According to experts, fighter jets are at their full speed after practice. In such a situation, there is a possibility that a bigger accident can happen due to the collision of the wings because it becomes difficult for the pilot to control the speed.
మరింత సమాచారం తెలుసుకోండి: