Singer vani Jayaram's mysterious death...!? Case registered..!?

Vani Jayaram, the best singer who sang songs in 19 languages including Tamil, Telugu, and Kannada, has been registered as a mysterious death.
Popular playback singer vani jayaram, who sang more than 10,000 songs, was found dead with injuries on her forehead at her home in Nungambakkam today. Her body has been taken to Omanturar government Hospital for post-mortem. In this case, the police are investigating her death.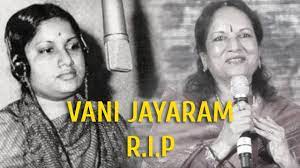 While singer vani jayaram (78) was said to have died after falling down at her house, vani Jayaram's housekeeper told reporters in Malarkodi about the incident this morning. vani jayaram is living alone in his house. Her housemaid used to do all the housework for the past ten years. As usual today at 10.45 am she reached home and rang the calling bell. After knocking five times, she did not open the door.
So she called. Didn't pick up the phone. She called her husband and told him about it. He also called vani jayaram and she did not pick up the phone, so she got suspicious and told the matter to the people downstairs.
 After that, they informed the police. She was in good health. Ever since the Padma awards were announced, she has been showered with congratulations. She did not take any treatment. She was healthy. Malarkodi said that she has an injury on his forehead. Thousand Lamp police have registered a case of vani Jayaram's death as a mysterious death.
మరింత సమాచారం తెలుసుకోండి: